Common Joint for Both Tensile and Compression Tests (20-300kN frame)
Adopts a single joint for both tension and compression tests. This makes it easier toexchange jigs. In addition, the joint is set with a nut placed in the upper part of theloading cell, which allows for safe detachment of the joint on the table.
Easy Control of Stress and Strain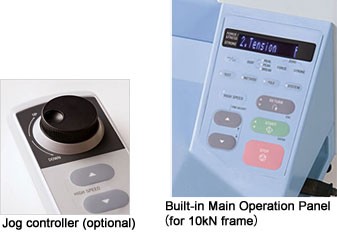 Conduct testing by calling up test methods fromTRAPEZIUM LITE X software. The AGS-X can be used asa standalone tester to test specimens using test methodscreated with the tester itself.
Jog controller (optional)
This allows hand-held control of the crosshead position.The jog dial makes fine positioning a breeze.
Main Operation Panel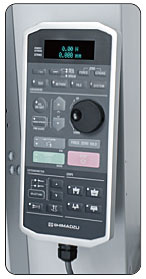 The main operation panel enables the development and storing of test conditions,allowing testing without having to connect to a PC. Perform various operations with thejog wheel, such as opening and shutting the button for automatic grips or the automaticextensometer. The main operational panel is movable, allowing convenient adjustmentof the angle.
Multipurpose Tray (Desk-top frame)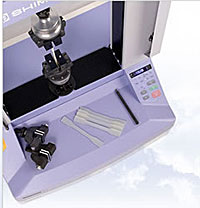 Large space in front of the instrument. Perfect for placing jigs, arrangingspecimens, or taking notes.
This page may contain references to products that are not available in your country.
Please contact us to check the availability of these products in your country.