Ultra sensitive peptide analysis and lipid profiling
Advanced design, fast workflows and added business value help the LCMS-8060 deliver on a broad range of applications. The challenge in peptide analysis and lipid profiling is to generate high data quality in complex samples.
High-Sensitivity Peptide Detection
High sensitivity and fast scanning capabilities has opened up new workflows for quantitative proteomics.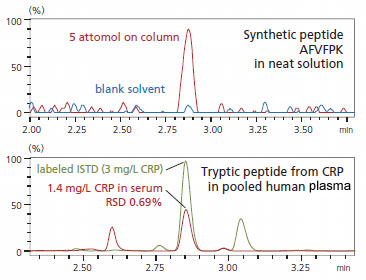 In the detection of the tryptic peptide AFVFPK (from C-reactive protein, CRP) as a biomarker for inflammation 3 mg/L is reported as an average level of CRP in plasma. The LCMS-8060 delivers a highly sensitive detection of AFVFPK with the lowest calibration curve point at 0.008 mg/L.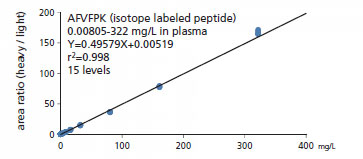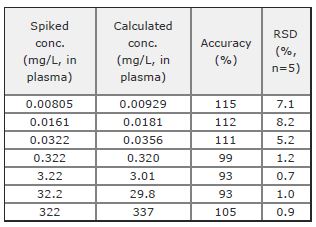 For Research Use Only. Not for use in diagnostic procedures.
This page may contain references to products that are not available in your country.
Please contact us to check the availability of these products in your country.